KYP in the News
"At an hour when most people are only preparing to go to work Thulani Madondo is welcoming 400 young people to the Kliptown Youth Programme (KYP). As executive director of KYP, 31-year-old Madondo is involved in every aspect of this extracurricular support programme, from making sure every child gets a hearty breakfast to overseeing their after-school homework tutoring and skills training."
Read more...
The Boston Globe:  Harvard Business School program helps build nonprofit management skills
"One of this year's international participants, Thulani Madondo, founded Kliptown Youth Program in Kliptown, South Africa, about half an hour from Johannesburg. He has been recognized around the world for his work and earned $50,000 for the group when he was named a CNN Hero in December.  'I'm interested in taking my organization to the next level," Madondo said about his interest in the Harvard program. "Most of my senior leadership does not have formal management training.'"
Read more...
City Press: 100 World Class South Africans: Thulani Madondo
"While rapper 50 Cent plans to feed one billion people in Africa (with proceeds from sales of his energy drink), when he took to the stage at the CNN Heroes event in LA this past December, he wasn't the centre of attention. Thulani Madondo was, and the musician was there to pay tribute to the man who co-founded the Kliptown Youth Program." Read more...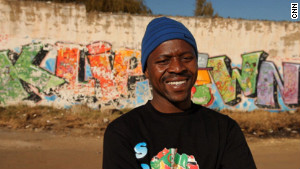 CNN: Helping 'Kliptown' kids take control of their future

"Brian Munyai has spent nearly all of his 22 years living in a small metal shack that has never had electricity or running water.  He shares a pit latrine with his neighbors. He bathes in a bucket with water drawn from the communal tap. At night, he reads by an oil lamp.  Conditions like this are typical for the nearly 40,000 people who live in the slums of Kliptown, a district in the largely black township of Soweto, South Africa. Generations of families have lived in these ramshackle homes just 15 miles from Johannesburg, the economic capital of the country."
Read more...